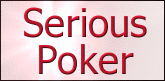 Welcome to SeriousPoker.com, a resource for serious poker players.
The following links are of especially current or recurring interest, and therefore get front page space.
Perennial Favorites
RGP FAQ
the first place to look for answers to your poker questions
Card Player
tons of great articles
PokerPages
tournament schedules, articles, and community
poker1.com
caro-powered poker megasite
ConJelCo
great place to buy poker books online
online poker
Please note that we do not currently host any content or links related to online poker.
Please note that none of these are "sponsored" or paid links. If you want to get your site on this list, build a great site.